To Integrate with Mindbody:
Use your Mindbody "Username and Password" along with your "Site ID' to connect to mindbody.
To Connect your Packet:
Go to the 'Integrations' tab and select 'Export submissions to Mindbody'
Enter your User Name, Password, and Site ID (Your Site ID can be found in your Mindbody account)
Click 'Authenticate'
Select the packet you want to integrate with Mindbody.
Click Save Configuration
Go to 'My Forms' and update your packet with the correct Mindybody shortcodes or use the Mindbody widget to add the Mindbody preset to your packet.
To Update your packet:
Please use the list of provided shortcodes on your integrated packet or use the preset provided in the form builder.
Patient Name
| | | | |
| --- | --- | --- | --- |
| Level | Shortcode | Display | Definition |
| 1 | firstName | First Name | *Must Have/ Ex: Image 2 |
| 1 | middleName | Middle Name | |
| 1 | lastName | Last Name | *Must Have |
| 1 | mindbodyEmail | Email | *Must Have |
| 1 | mindbodyBirthday | Birthday | *Must Have |
| 1 | mindbodyAddress1 | Address | |
| 1 | mindbodyAddress2 | Address2 | |
| 1 | mindbodyCity | City | |
| 1 | mindbodyState | State | |
| 1 | mindbodyZip | Zip | |
| 1 | mindbodyCountry | Country | |
| 1 | mindbodyGender | Gender | |
| 2 | male | Male | |
| 2 | female | Female | |
| 2 | other | Other | |
| 2 | unknown | Unknown | |
| 1 | modMeMaritalStatus | Primary Insurance Upload | |
| 2 | mindbodyPhotoFront | Married | |
| 2 | mindbodyPhotoBack | Single | |
Email Example: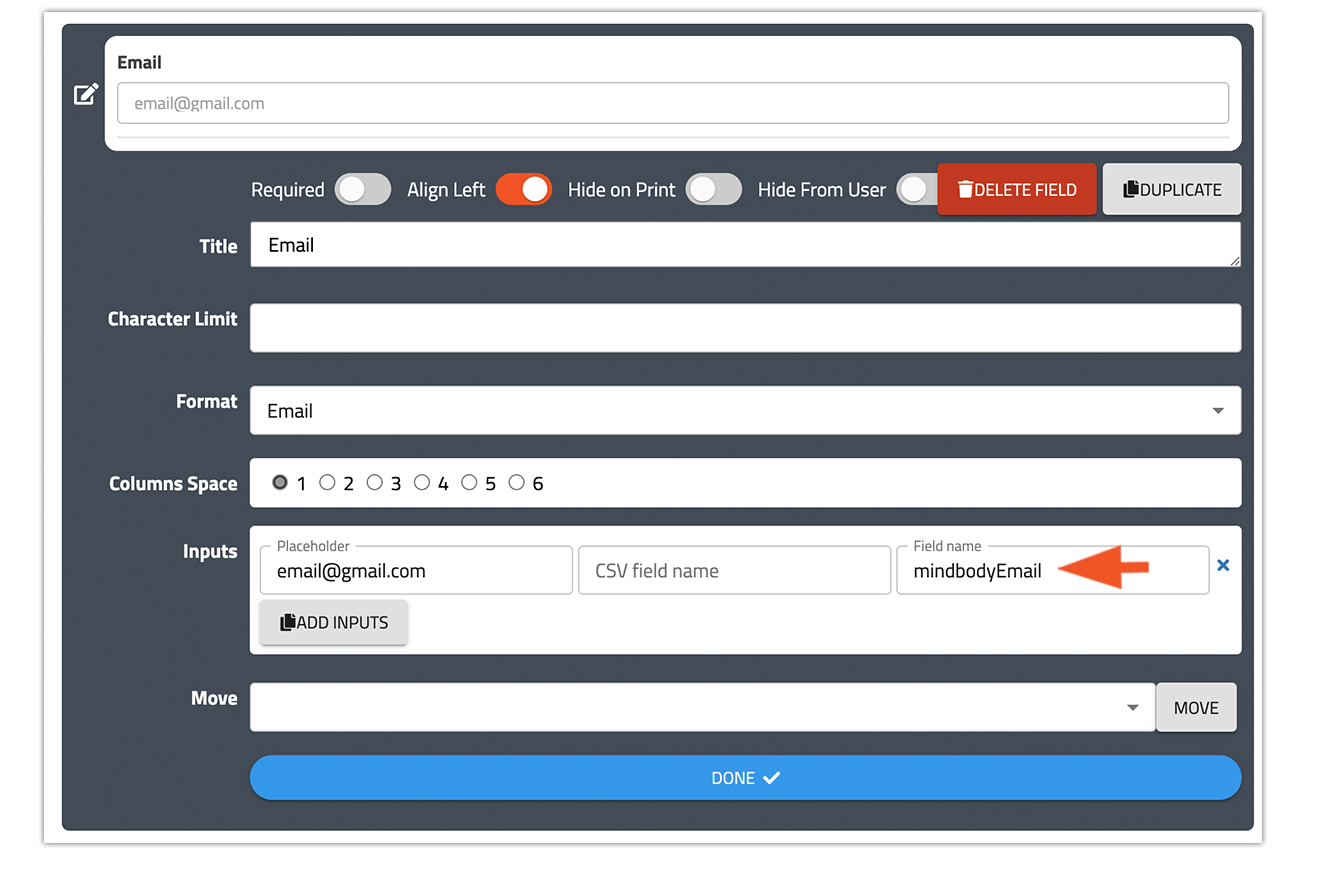 Insurance Photo Upload Example: