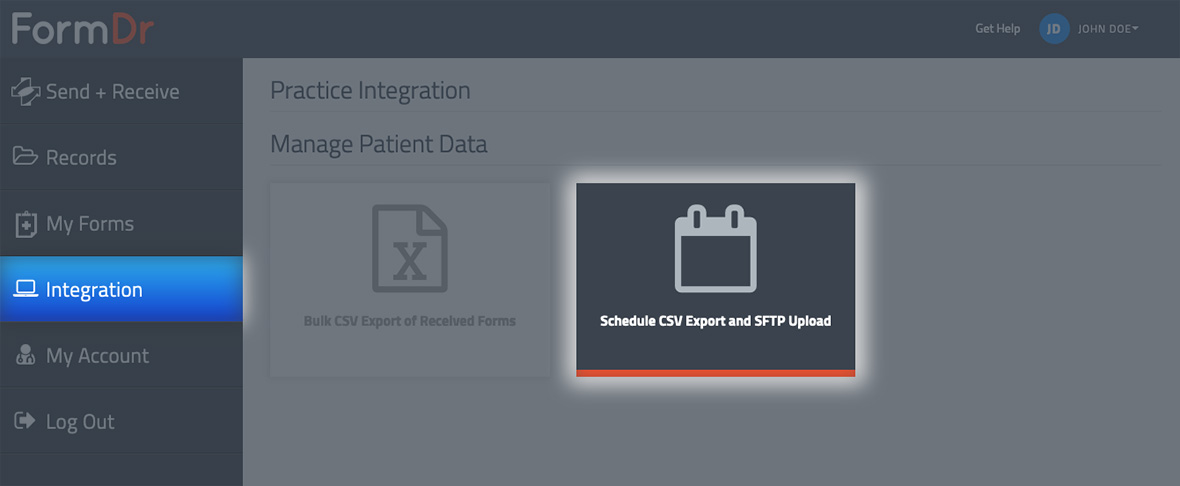 To Schedule An Export Of Submissions:
Log in to FormDr
Select 'Integration'
Select the 'Schedule CSV Export and SFTP Upload' button
Schedule a CSV Export
You can bulk export submissions to a CSV and then schedule them to be uploaded to a server of your choice. This is an export is to your own third party server, so you will want to ensure any appropriate safe guards are in place.
Scheduled Export Settings
Frequency – Set the frequency that the export is executed, you can export on a daily, weekly, or monthly basis.
Time – Set the time that the export takes place, you can set an exact hour for daily exports, weekly exports can be configured for a particular day of the week, and monthly exports can happen on the 1st or the 15th.
Forms – Select which forms you want to export submissions from. By default all form submissions will be exported into a single CSV file.
FTP Protocol – Select what type of FTP server type you have, we recommend using SFTP or FTP-SSL if you are transferring PHI. The standard FTP (File Transfer Protocol) is not secured and your data will not be encrypted.
Domain – The domain of your FTP server.
Port – The port required to connect to your server.
Username – The username required to connect to your server.
Password – The password required to connect to your server.
Once all settings are configured, click the 'Save SFTP Info' – to test your connection, click the 'Test Connection' button. If you are getting a connection error, confirm your connection settings and test again.