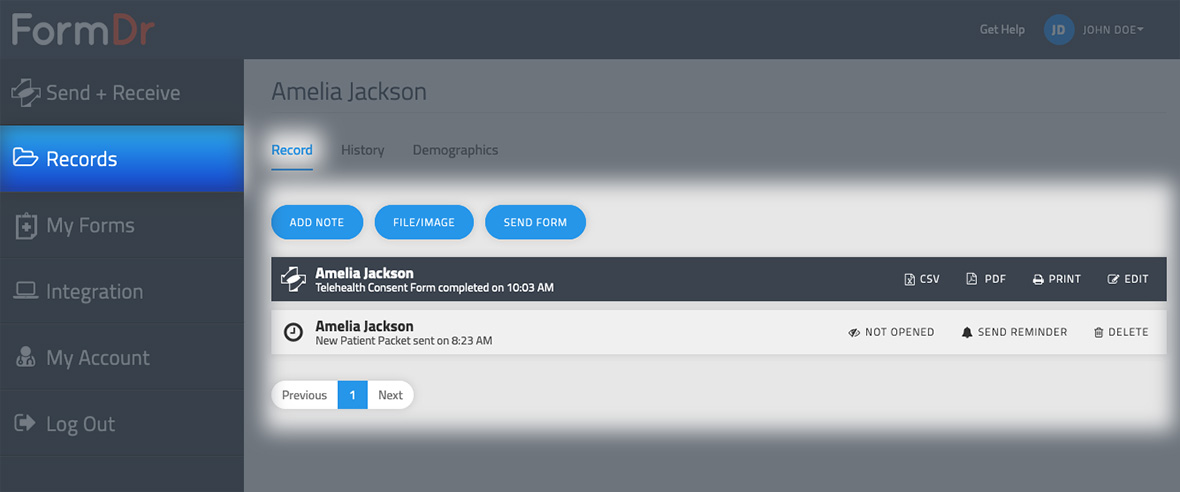 To View A Patient's Record:
Log in to FormDr
Select 'Records'
Scroll down to the patient record you would like to view
Select the 'View Patient' button, this will load the record for this patient
The Record
In the patient's record, you will find all of the submissions completed by that patient, this includes incomplete submissions as well. You can add notes, files, and images to the patient's record. There is also an option to view the most recent demographics of the patient
Record History
You can keep track of the history of a record in the history tab. The history will track major events that take place in the record. When making changes to a submissions, a copy will be created and saved in the record so you retain the ability of viewing older versions of submissions.
How are submissions grouped together?
When you archive a patient submission, it will be stored in the patient's record. When sending forms out to a patient from your account, submissions will automatically be grouped together by the patient's name and either the email address or phone number that the forms were sent to. You can also group submissions together into a record by including a Date of Birth (to include this, rename the field name for the date to dateofBirth).